I know all of you are looking to the airsoft in sence of aesthetics. To look like a real soldier.
However for me airsoft has been a way to play the game where the main objective is to hit as more oposite players as possible. To gain some success in that, there is a ammount of things that are unneccesary if we look at the CTW/PTW/AEG as a device that shoots BB`s. For expample, parts that are functional in real firearms, but are not in the airsoft devices - to me, they could be gone.
Thus I`ve taken best I could in airsoft field and made a BB shooting device, that has little common in terms of outlook with the real firearm.
So here it goes: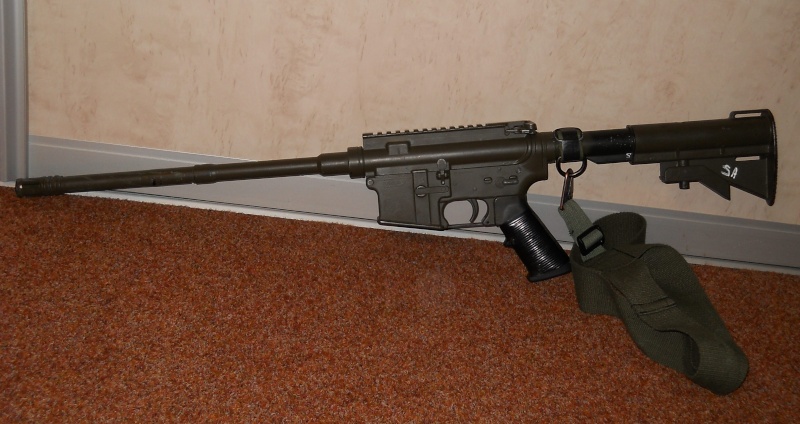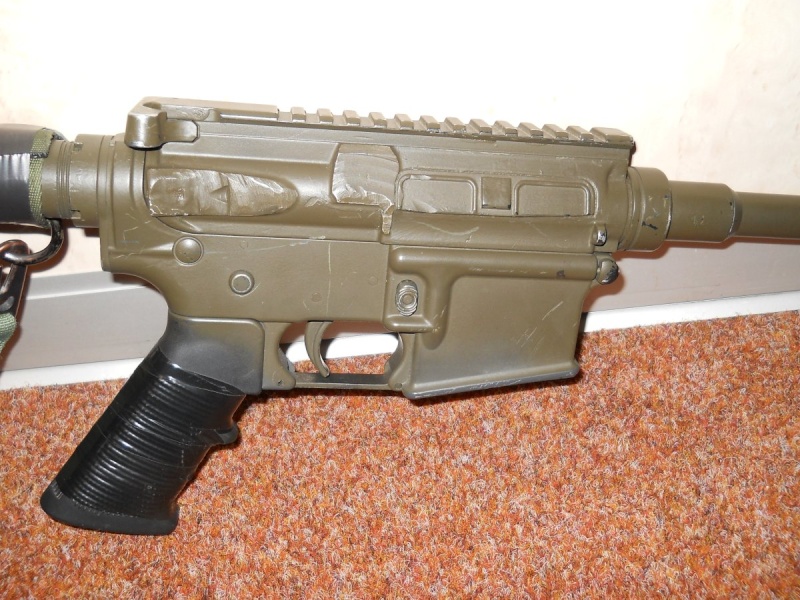 And the one for night games:
What do I have here, basically is:
- CTW MX2 lower receiver;
- Systema PTW 2008 Upper with chiselled shell reflector, forward assist and sealed shell port with plastic replica (airosft guns have no shells, no smoke, no heat, nor recoil);
- Custom stock tube with LiPo mod;
- CA collapsable stock;
- Aluminium outer barrel (don`t remember the name, and to me it doesn`t matter as long as it is strong and light.

)
- plastic flish hider from toy gun;
- self-made 1-point sling;
- Systema PTW cylinder with mod to meet 125 m/s;
- Systema PTW inner barrel and Hop-up (I found that CTW barrel is not that good despite the fact of 6.01 mm);
- Saber plastic magazine;
- Red Dot for night games.
Altogether I have a rifle that fully loaded weights 2.15 kg. To me it matters if I have to point the enemy as fast as I could.
During the day I play without any aiming devices at all, not even an iron sight. I feel free to hit any object arround me within 20m without any aiming. Or if I have to correct it, I always can use the first BB trail as a traiser/marker.

I know that most of you will not like this, but that is fine with me, since this is my approach to the airsoft. And my rifle can do the same things as the rest ones, it is just simply lighter and thus provides me some advantages in skirmishings. Of course, it is more paintball oriented approach, I agree. But I could not resist the desire to hit the enemy first and to do that I need to look at the things as real as I could.
The same attitude I have towards my equip, I try to take to the ordinary game only the things I need: BB`s, 2/3 mags, loader, Radio, map, pen. To carry that I need as small bearing as possible. I use Alice H-type bearing from 1967 with 2x M16 mag pouches

Woodland camo, light army boots, gloves and boonie hat. That`s it.
Enjoy the game!